THE REAL GROUP (SWE)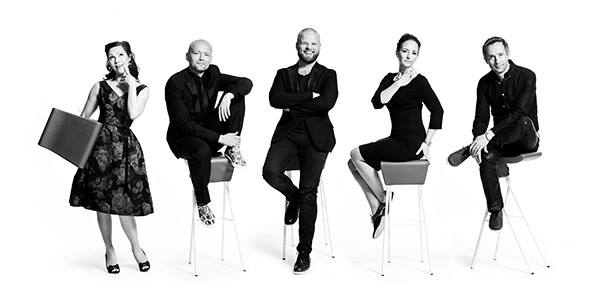 The Real Group zählt zu den weltweit besten A-cappella-Formationen und ist in seiner derzeitigen Besetzung erneut zur Höchstform aufgelaufen. Mit einem atemberaubenden Mix aus Pop, Soul, Jazz und skandinavischer Musik werden sie das sechste Voxon A-cappella Festival zu einem unvergesslichen Hörgenuss auf höchster Ebene machen.
The Real Group šteje med svetovno najboljše a-cappella-formacije in so z aktualno zasedbo spet v vrhunski formi. Z osupljivim miksom pop-, soul-, jazz- in skandinavske glasbe bodo poskrbeli za to, da bo šesti Voxon A-cappella Festival nepozabljivo doživetje na najvišji glasbeni ravni.
The Real Group is a professional a cappella ensemble from Sweden, in constant development since its formation in 1984. The Real Group is one of the leading forces in
the world of vocal music today. Their combination of perfection, personal touch and their wide repertoire have made it possible for the group to collaborate with symphony
orchestras, jazz groups, popbands and international artists.
Mitglieder/Člani/The members
Emma Nilsdotter
Lisa Östergren
Anders Edenroth
Morten Vinther
Janis Strazdins
SPECIAL GUEST
CHRISTIAN HÖLBLING alias HELFRIED (AUT)
Der kärntnerisch-steirische "Doppelstaatsbürger" Christian Hölbling ist mit seiner Kunstfigur Helfried als TV-Moderator ("Vurschrift is Vurschrift", puls4) sowie für sein Humorfestival Velden und die Talkshow "Helfrieds Strenge Kammer" bekannt.
Beim Voxon A-cappella Festival gab er 2017 als Helfried sein Debut als Festival-Moderator und sorgte mit seiner Spontaneität und seinem niveauvollem Humor für Lachkrämpfe und Begeisterungsstürme.
Koroško-štajerski "dvojni državljan" Christian Hölbling je s svojo umetnostno osebnostjo Helfried zastopan tudi na televiziji in prireja Festival humorja v Vrbi ter pogovorni šov "Helfrieds Strenge Kammer".
Pri Voxon A-cappella Festivalu 2017 je v vlogi Helfrieda prvič moderiral naš festival in je s svojo spontanostjo in humorjem na najvišji ravni poskrbel za prave napade smeha in val navdušenja.
VOXON (AUT)
Die österreichische Vocalband Voxon wurde im Jahr 2007 als Nachfolgegruppe der Gruppe Vox, die im Jahr 1994 ihren ersten Auftritt hatte und drei CDs veröffentlichte, gegründet. 2010 veröffentlichte Voxon seine erste fünfsprachige CD und war damit für den Cara Award nominiert.
Das Repertoire der Band umfasst eigene Songs und Cover in mehreren Sprachen. Das Voxon A-cappella Festival, das 2012 erstmals organisiert wurde, begeistert jedes Jahr über 1000 Gäste. Gruppen aus Deutschland, Slowenien, Italien und den USA nahmen bisher am beliebten Festival teil. Mit der Voxon Academy bietet Voxon jungen Musikerinnen und Musikern einen perfekten Einstieg in die Welt der Musik.
Avstrijski vokalni bend Voxon je bil ustanovljen leta 2007 in je nasledil skupino Vox, ki je nastala 1994 in je posnela tri CDje. Leta 2010 je vokalni bend Voxon objavil prvi CD, ki je naposled bil nominiran za Cara Award.
Repertoar skupine obsega avtorske sklabe in lastne priredbe coverjev v več jezikih. Voxon A-cappella Festival, ki ga organizirajo od leta 2012 dalje, vsako leto privabi v Pliberk nad 1000 gostov. Doslej so pri festivalu sodelovale skupine iz Nemčije, Slovenije, Italije in ZDA. Voxon Academy, ki pravtako deluje od leta 2012 dalje, nudi mladim glasbenicam in glasbenikom perfekten vstop v svet glasbe.
The Austrian Vocal Band Voxon was founded in 2007 as a follow-up group of the group Vox, which had their first performance in 1994 and released three CDs.
In 2010 Voxon released a CD with songs in five different languages and were nominated for the Cara Award.
The Voxon A-cappella Festival, which was first organized in 2012, thrilled more than 1000 guests every year.
Groups from Germany, Slovenia, Italy and the United States took part in the popular festival.
With the Voxon Academy Voxon offers young musicians a perfect introduction to the world of music.